Texas Wins 75th Western Intercollegiate Title; Menante Captures Blue Jacket
Santa Cruz, Calif. (April  13, 2022) -- Texas captured its third Western Intercollegiate presented by Topgolf and Titleist team title, holding off Pepperdine by one stroke after Wednesday's final round at the Pasatiempo Golf Club.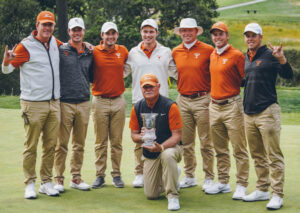 Pepperdine's Dylan Menante took medalist honors and the traditional blue jacket with a final round 3-under 67 for a 1-under 209 total. Menante becomes Pepperdine's third Western individual champion, and second straight, following in the footsteps of teammate and defending champion Joe Highsmith, who finished in a tie for 22nd.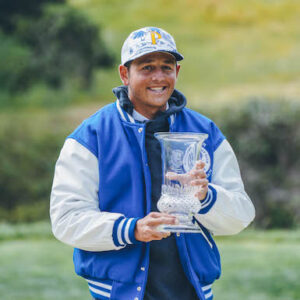 Playing in the same grouping with Pierceson Coody of Texas, Menante took the lead after the 16th hole after converting an eight-foot par putt and Coody double-bogeyed. Coody held the lead after No. 14 but gave back three shots over the next two holes with a bogey on No. 15 and double on No. 16.
Coody finished in a three-way tie for runner-up at 2-over 212 along with BYU's Carson Lundell and Colorado State's Rasmus Hjelm, the latter of whom held the 36-hole lead. Lundell shot the low round of the tournament with a 5-under 65 on Wednesday.
Washington (1091) finished in third place with the day's best round of 342 followed by San Diego State (1092) and BYU (1097). Host San José State (1119) finished in 10th place.
The final round was played in far different conditions than the previous two days, in which wind and rain wreaked havoc on the golf course. A total of 36 golfers shot par or better on Wednesday compared to 11 in the first two rounds combined.
Menante's 209 total was the highest for a Western medalist since 2009 when Oregon's State's Diego Velasquez shot even par 210 to win the blue jacket.
75th Western Intercollegiate presented by Topgolf
Pasatiempo Golf Club, Santa Cruz, Calif.
Par 70, 6,615 yards
Final 54-hole results
Team scoring
| | | |
| --- | --- | --- |
| 1 | Texas | 1075 |
| 2 | Pepperdine | 1076 |
| 3 | Washington | 1091 |
| 4 | San Diego State | 1092 |
| 5 | Brigham Young | 1097 |
| 6 | Oregon | 1101 |
| 7 | California | 1116 |
| T8 | Colorado State | 1117 |
| T8 | Arizona | 1117 |
| 10 | San José State | 1119 |
| 11 | Southern California | 1129 |
| T12 | Stanford | 1135 |
| T12 | UC Irvine | 1135 |
| 14 | Hawai'i | 1174 |
Leading individuals
1

Dylan Menante, Pepperdine
70-72-67-209 (-1)

T2

Carson Lundell, Brigham Young
77-70-65-212 (+2)
Pierceson Coody, Texas
70-73-69-212 (+2)
Rasmus Hjelm, Colorado State
70-69-73-212 (+2)

T5

Justin Hastings, San Diego State
72-71-70-213 (+3)
Chase Sienkiewicz, Arizona
72-71-70-213 (+3)

T7

Greyson Leach, Oregon
75-72-67-214 (+4)
Derek Hitchner, Pepperdine
73-74-67-214 (+4)
Travis Vick, Texas
73-73-68-214 (+4)
RJ Manke, Washington
73-72-69-214 (+4)
Mason Nome, Texas
78-66-70-214 (+4)
Cole Hammer, Texas
73-70-71-214 (+4)
Ind. - played as an individual entry