GOLF Channel To Re-Broadcast San Jose State University's 73rd Western Intercollegiate Men's Golf Tournament
April 8, 2020
In another first in the unmatched history of the Western Intercollegiate men's golf tournament hosted by San José State University, GOLF Channel, the Spartans' national television partner since 2019, will re-broadcast the 73rd Western Intercollegiate presented by Topgolf, Monday, April 13, through Wednesday, April 15.
Broadcast times are:
Monday, April 13
Round 1
6 - 9 pm ET
3 - 6 pm PT
Midnight - 3 am ET
9 pm - Midnight PT
Tuesday, April 14
Round 2
6 - 9 pm ET
3 - 6 pm PT
Midnight - 3 am ET
9 pm - Midnight PT
Wednesday, April 15
Final Round
6 - 9 pm ET
3 - 6 pm PT
Midnight - 3 am ET
9 pm - Midnight PT
GOLF Channel's encore presentation also will stream online at GOLFChannel.com and via the GOLF Channel mobile app.
"We want to thank GOLF Channel for televising last year's Western Intercollegiate presented by Topgolf in place of what would have been this year's Western, the 74th, all hosted by San José State. Golf fans will be in for a real treat thanks to Topgolf's sponsorship," said San José State University men's golf coach and tournament director John Kennaday.
"GOLF Channel's production values and tournament broadcast expertise portrayed the Western, Pasatiempo and college men's golf in the best possible light each day under perfect weather conditions. We had a 13-team field featuring future stars of golf playing for their universities in the team format and 84 players competing individually at the same time for the Blue Jacket awarded to the medalist," Kennaday added.
The 73rd Western Intercollegiate, which took place at the Pasatiempo Golf Club in Santa Cruz, Calif., originally aired on GOLF Channel, April 15-17, 2019, with three hours of live coverage daily and a late-night replay for an unprecedented 18 hours of regular-season college golf. Coverage was hosted by Bob Papa and Curt Byrum in the 18th hole broadcast booth, Steve Burkowski as a hole announcer, and on-course reports by former PGA Tour players Billy Ray Brown and 1996 Western Intercollegiate winner and San Jose State alum Arron Oberholser and GOLF Channel reporter Chantel McCabe.
Arizona, California, UC Irvine, Colorado State, Hawaii, Oregon, Pepperdine, San Diego State, Southern California (USC), Stanford, UTEP, Washington and host San José State were the teams strategically navigating the 6,610-yard, par-70 course designed by Alister MacKenzie, designer of Augusta National, home of The Masters. Four teams were ranked in GolfStat's top-20 and three more were in the top-50 when the first players teed off in the six-player, count-four team scoring format.
Twelve players from seven teams would post a 54-hole total under par. There would be two holes-in-one by two different players on the 177-yard, par 3, 8th hole. And, the 73rd Western Intercollegiate presented by Topgolf would end on the fifth playoff hole with GOLF Channel covering every shot of the longest playoff in Western Intercollegiate history dating back to 1947.
GOLF Channel's encore presentation of the 73rd Western Intercollegiate presented by Topgolf will be just as entertaining and exciting as the original telecast in 2019.
ABOUT THE WESTERN INTERCOLLEGIATE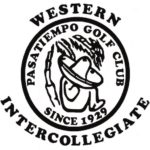 Since 1947, San José State has hosted the annual Western Intercollegiate men's college golf tournament. The "Western" has attracted teams from every United States continental time zone and Hawaii, the country of Japan, and players from more than 13 countries. Formerly, a match-play tournament, the 54-hole championship now combines a team winner and an individual medalist who is awarded the Blue Jacket. More than 55 former Western Intercollegiate players have realized success on the PGA Tour accounting for more than 425 tour victories, including 44 "major" championships.
ABOUT THE PASATIEMPO GOLF CLUB

From greens that have challenged generations of golfers including Bobby Jones, Ken Venturi, Juli Inkster, and Tiger Woods, to rich golf history and breathtaking scenery, Pasatiempo delivers a memorable golf experience: it is truly one of the finest championship golf courses in the world. Designed by world-renowned golf architect Alister MacKenzie, Pasatiempo has hosted the Western Intercollegiate and USGA Championships including the 1986 U.S. Women's Amateur and the 2004 U.S. Senior Women's Amateur.