North Carolina and Oregon's Norman Xiong Take Home 72nd Transamerica/WFG Western Intercollegiate Men's Golf Titles
April 8, 2018 (Santa Cruz, Calif.) – The University of North Carolina left little doubt which was the best team, and Norman Xiong of the University of Oregon capped a dramatic conclusion with a tap-in birdie putt on the third playoff hole at the 72nd annual Transamerica/WFG Western Intercollegiate men's golf tournament.
"It was fantastic. I thought the golf that was played by everybody was really good. It's exceptional what North Carolina did. Coach (Andrew DiBetetto) said it best when he said we didn't know any better and we just attacked," said San Jose State golf coach and tournament host John Kennaday. "And, congratulations to Norman Xiong for winning the Blue Jacket, symbolic of winning the Western."
North Carolina captured its second team title of the season with a convincing 14-under par 1,036 team score on the 6,615-yard, par 70 Pasatiempo Golf Course. North Carolina overtook first-round leader Texas in the second round with a 10-under par 340 in the 6-score-5 format, which partnered each team's six players into three teammate foursomes with two other players from a different team. Once in the lead, #20-ranked Tar Heels never looked back.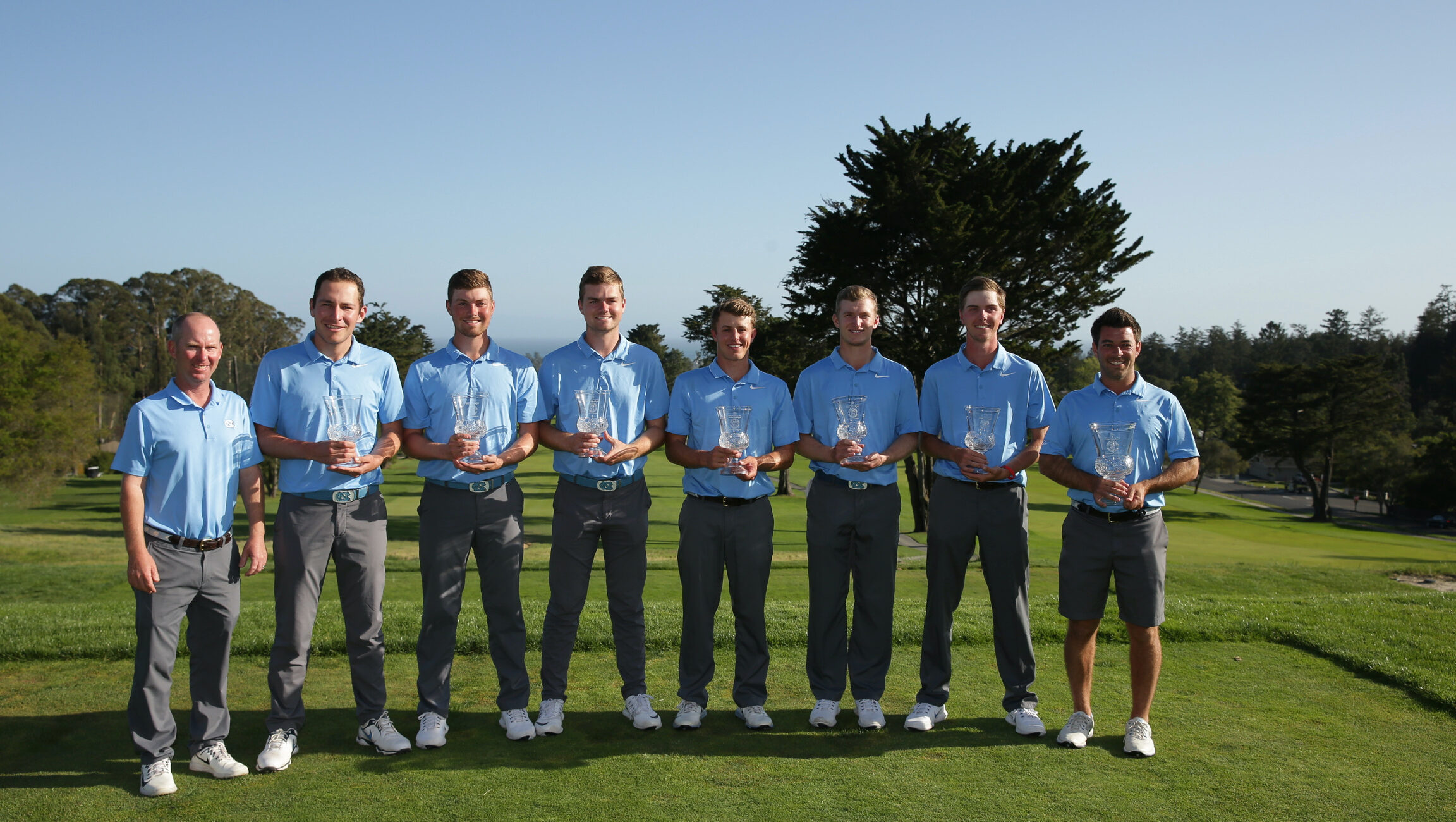 North Carolina had a six-stroke lead over San Diego State and California after 36 holes, was as low as 20-under par as a team, and led by as many as 14 strokes with less than nine holes remaining on a course that was soaked by 4.5 inches of rain the night before the tournament started.
"It was our first time out here. We did a lot of homework. We asked a lot of questions. Everyone we talked to had nothing but extremely positive things to say about the golf course and how much fun it was to play and how good of a challenge it is. Everybody also talked about the greens and how tricky they are. You have to be in the right spot," said DiBetetto, the North Carolina head coach.
"With the weather coming during the practice round, it really softened things up. Some of the horror stories we had heard, our guys have never experienced. So, we were in the attack mode."
The Tar Heels had four of their six players finish in the top-20 of the 96-player field, led by Ben Griffin who was fifth at seven-under par 203. Jose Montano tied for sixth at 204 after a third-round 65. Joshua Martin at one-under par 209 tied for 16th, and Austin Hitt at even par 210 tied for 20th for North Carolina.
#9-California was second with a four-under par 1,046 in a 15-team field that included 10 top-50 nationally-ranked teams by GolfStat. #50-San Diego State and #21-USC tied for third at 1,052.
Host San Jose State finished 11th at 1,080 in the tournament that included teams from seven states and five time zones.
As dominant and decisive North Carolina was in the team race, there was drama for the Western's Blue Jacket first-place prize.
Three playoff holes were needed before Xiong's birdie on the par-4 first hole, for his fifth win of the season to outlast Cal's Collin Morikawa and Arizona's George Cunningham, who tied at 200 after 54 holes.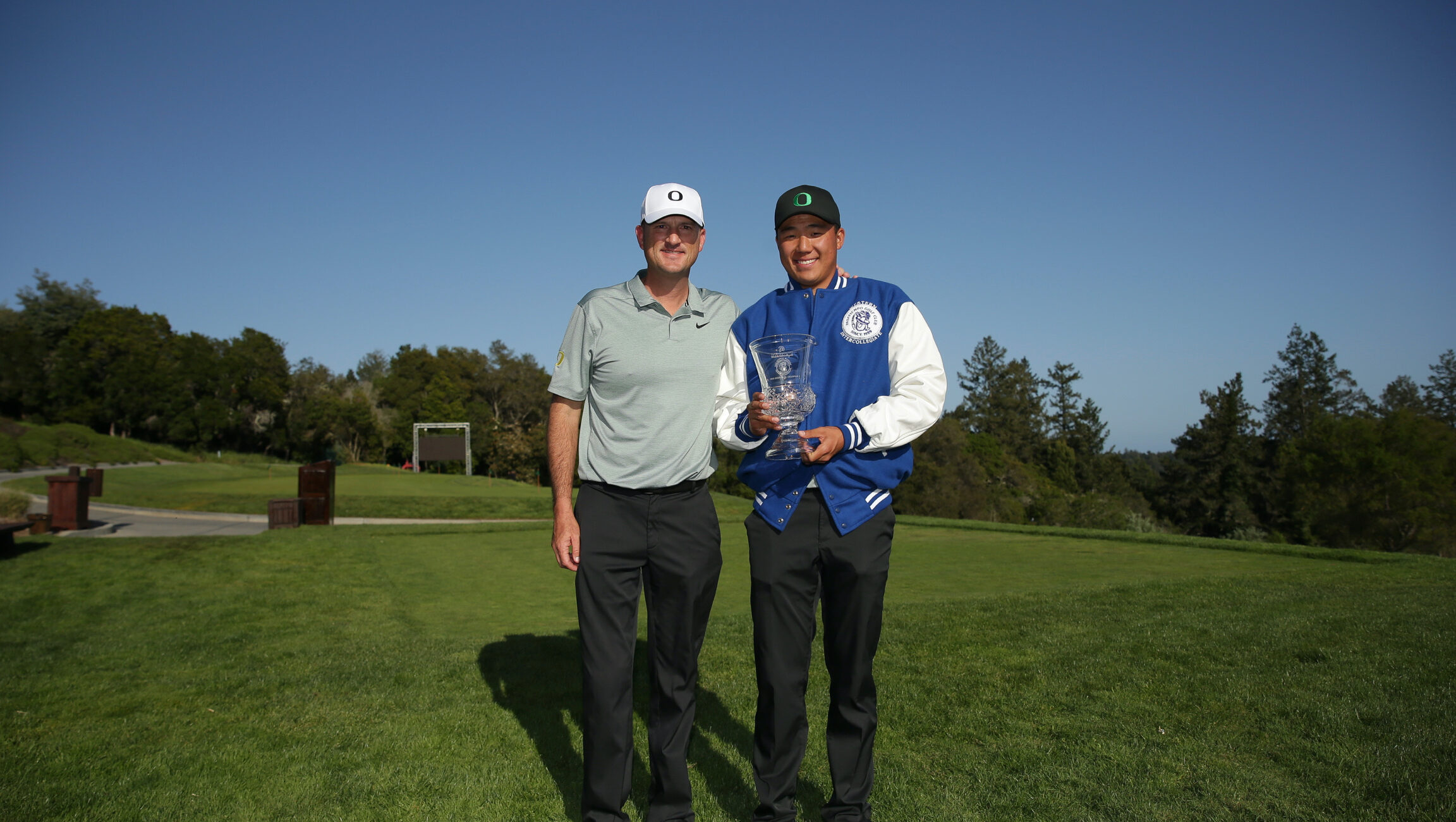 Xiong had a chance to win the tournament outright in regulation, but bogeyed the 18th hole, his last. Cunningham, who shared the first round lead and led outright after 36 holes, reached 10-under with a birdie on #12, his 53rd hole of the tournament. Morikawa had the best score of the final round with a 64 and first reached 10-under after an eagle-birdie-birdie flurry on holes 13 through 15 and needed a birdie-2 on the hole 3, his 52nd hole, to get to 10-under and hope for a playoff.
Xiong and Morikawa advanced to the second playoff hole with a par after Cunningham bogeyed the first playoff hole, #1. Xiong and Morikawa parred the par-5, 9th hole and returned to #1 for Xiong's win.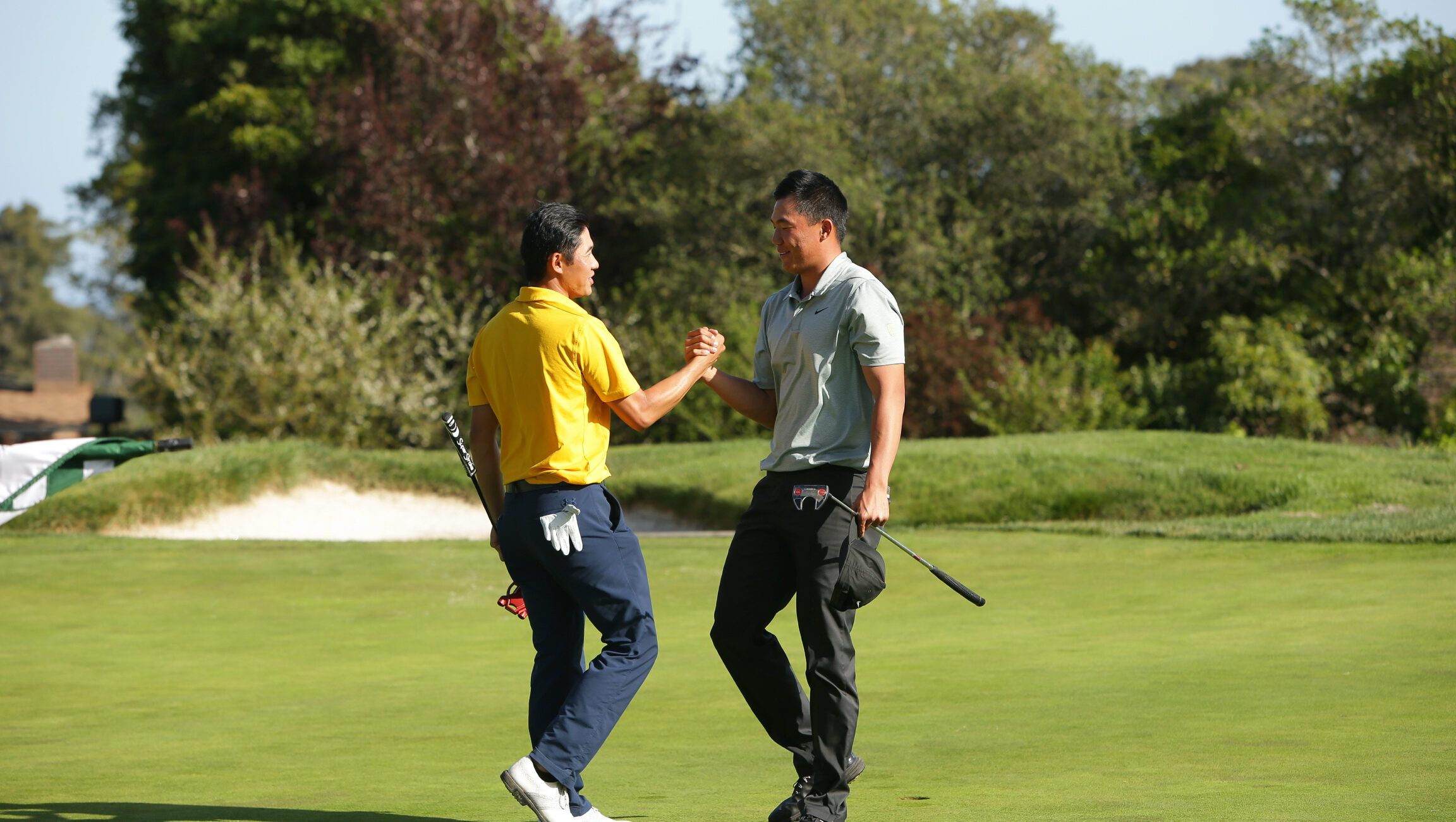 "Staying patient for sure. Because of the rain delay, it made the greens kind of bumpy. They weren't the smoothest. The course played 'getable,' but you had to be patient on the greens. Staying patient on the greens and realizing they were soft, you could score out here," said Xiong about the Alistair MacKenzie-designed Pasatiempo course.
"I think I figured out golf is starting to become a mental game at this level, because we can all hit it, we can all putt it, we can all chip it. But, if you have the right mental game, you can feel comfortable which I did these past couple of weeks. You can really get it done out here."
The 72nd Western Intercollegiate field included 2015 medalist Scottie Scheffler of Texas and 2017 individual winner Justin Suh of USC and 11 more top-100 players nationally. Suh finished fourth at 202 and tied for 11th at 207 and had a share of the first round lead.
In the midst of the individual race, San Diego State's P.J. Samiere tied the tournament record 63, shot by Jason Allred of Pepperdine in 2000 and Xavier's John Striebich in 2007, in the second round and tied for sixth with North Carolina's Montano and Cal's Sebastian Crampton.
The Western Intercollegiate, first started in 1947, is acknowledged as one of the longest standing golf tournaments at the same location. This year's Western survived 4.5 inches of rain overnight the night before the tournament's start.
Transamerica/WPG is the title sponsor. Cooper Challen Realty, the Brandenburg Family Foundation and the late Don and Sally Lucas are platinum sponsors.